October 6th, 2017
5 pm until 7 pm
As part of the Milford Pumpkin Festival, please join us for an impromptu wine tasting — a "pouring" really, since we have no someliere — at our gallery in Milford on October 6th from 5pm until 7pm. We will be featuring 5 or 6 wines whose labels have artistic flair. We know that with wine, it\'s all about taste, but why not celebrate wine producers who go the extra step to package their wine in an attractive way.
There will also be cheese and other refreshments for visitors to enjoy while strolling through our gallery enjoying the current exhibitions, paintings, drawings, collages and prints by artists Marius Sznajderman and Lotus Lien.
The Fall 2017 edition of Wine Tasting for Art Lovers features four wines from Spain which represent excellent value and drinkability, and as befits the artist in us, beautifully designed labeling. Spanish winemakers seem to have taken the lead in hiring talented designers to design their labels with many beautiful designs out there, but unfortunately, the best designs are not being imported to the US.
However, we persevere and present a Monstrell grape wine, along with three blended wines which have in common the Garnacha grape, one of the most widely planted grapes in the world. Thought to have most likely originated in Aragon, Spain, Granacha is also known as Grenache. On its own it is generally spicy, berry-flavoured and soft on the palate featuring red fruit flavors (raspberry and strawberry) with notes of white pepper. This grape is often blended with other varieties such as Syrah (Shiraz), Carignan, Tempranillo and Cinsaut.
TARIMA MONASTRELL JUMILLA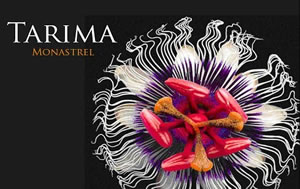 • 100% Monastrell (Mourvedre)
• 90 Points — The International Wine Cellar
• 87 Points — Wine Spectator
The lovely close-up image of a passion fruit flower's "corona" is this label's key element set against a dark background, making the effect very dramatic.
"Bright purple. Powerful aromas of blueberry, blackberry, violet and Indian spices. Displays vibrant flavours of smoky dark berries, bitter cherry and candied flowers, with a peppery overtone. The sweet, fruit-driven finish repeats the smoky note and hangs on tenaciously. I'd drink this wine young for its extroverted fruit character. To call it a value is an understatement."
— The International Wine Cellar
Pairing: Great with rustic food… cassoulet, wild boar rage, or smoky ribs, and other hearty fare.
---
RED GUITAR OLD VINE TEMPRANILLO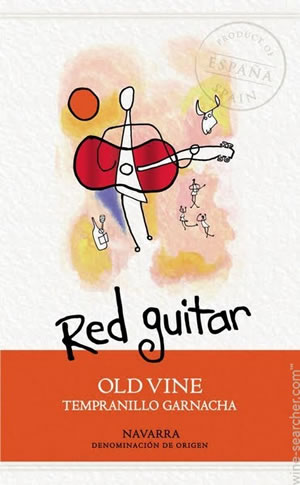 • 55% Tempranillo, 45% Garnacha
• 85 Points
Perhaps the most artsy label of the selection, the graphics on this label are clearly in the style of Barcelona-born surrealist painter Joan Miro. Fortunately Wine Enthusiast also reports that "the Tempranillo and Garnacha in the blend work well together, resulting in zesty cherry flavors that properly back up the sweet, mildly spicy bouquet. Fresh and a touch peppery."
Pairing: Goes well with mildly spicy dishes such as a burger with smoked paprika, mild Cajun (Jambalaya) or Indian, stronger tasting fowl, or leaner beef. For cheese try it with any smoked cheese.
---
BORSAO BEROLA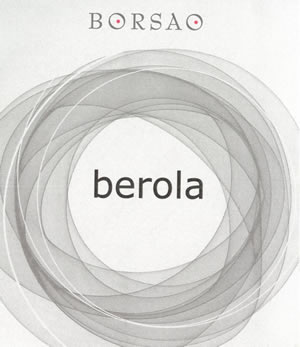 • 70% Garnacha, 20% Syrah, 10% Cabernet Sauvignon
• 91 Points — Robert Parker's Wine Advocate
Subtle, softly curving lines resembling a sheer voile fabric shaped in circle in silver and beige are the key graphic. With a label as simple, sensuous and elegant as this, we know the designer has sophistication in mind.
"Begins with an absolutely fabulous bouquet of beautiful blueberry, blackberry, smoked meat, vanilla, anise, violet and more. I'm a sucker for a good aroma and this is a wonderfully complex one. In fact, I'd be happy just to smell it! Luckily, tasting the wine does not disappoint after the high bar set by the bouquet. This is a smooth, smoky an spicy wine with dark ripe fruit and very soft tannins. It ends with more blackberry and plum and continued peppery spice with just a hint of tobacco at the very end of the dry, long finish. DELICIOUS!"
— Reverse Wine Snob
Pairing: Try this winner with heartier winter fare: braises and roasts, and even stews and chills!
---
LA MAL DITA GARNACHA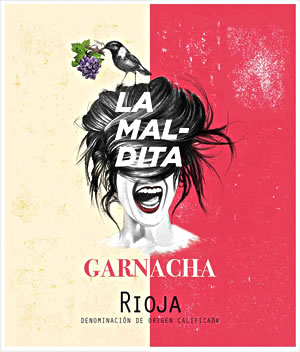 100% Garnacha
Sporting a fairly outrageous white/red label with an image of a woman with tousled hair in front of her face, mouth open as if yelling and small bird eating grapes while standing on her head, this label plays off the nickname of the Garnacha grape in the region of La Rioja, Spain, "La Maldita" or "the little cursed one". Garnacha has a thin skin and it produces very low yields, hence the nickname, in this region at any rate where Tempranillo is the star grape.
This is our only wine which is 100% Garnacha — an uncommon effort it would seem, since Garnacha is most often, as noted above, blended with other grape varieties. Alone it can suffer from a lack of acidity and tannin. Kevin Day of Opening a Bottle says "…when all these layers are dialed in exactly right, Grenache (Garnacha) becomes a work of beauty. The notes of cooked strawberry and crushed leaves found a nice companion in a mellow but effective amount of acidity. In simpler terms: it was super drinkable."
Pairing: This versatile wine goes well with many everyday favorites, from pizza and burgers, to paella, as well as white meats, roasts, grills, and semi-cured cheeses.